Master craftsman builds world's first vegan violin
Traditional violins contain numerous animal products including glue from boiled cow hides, sheep intestine strings and horse hair and ivory bows.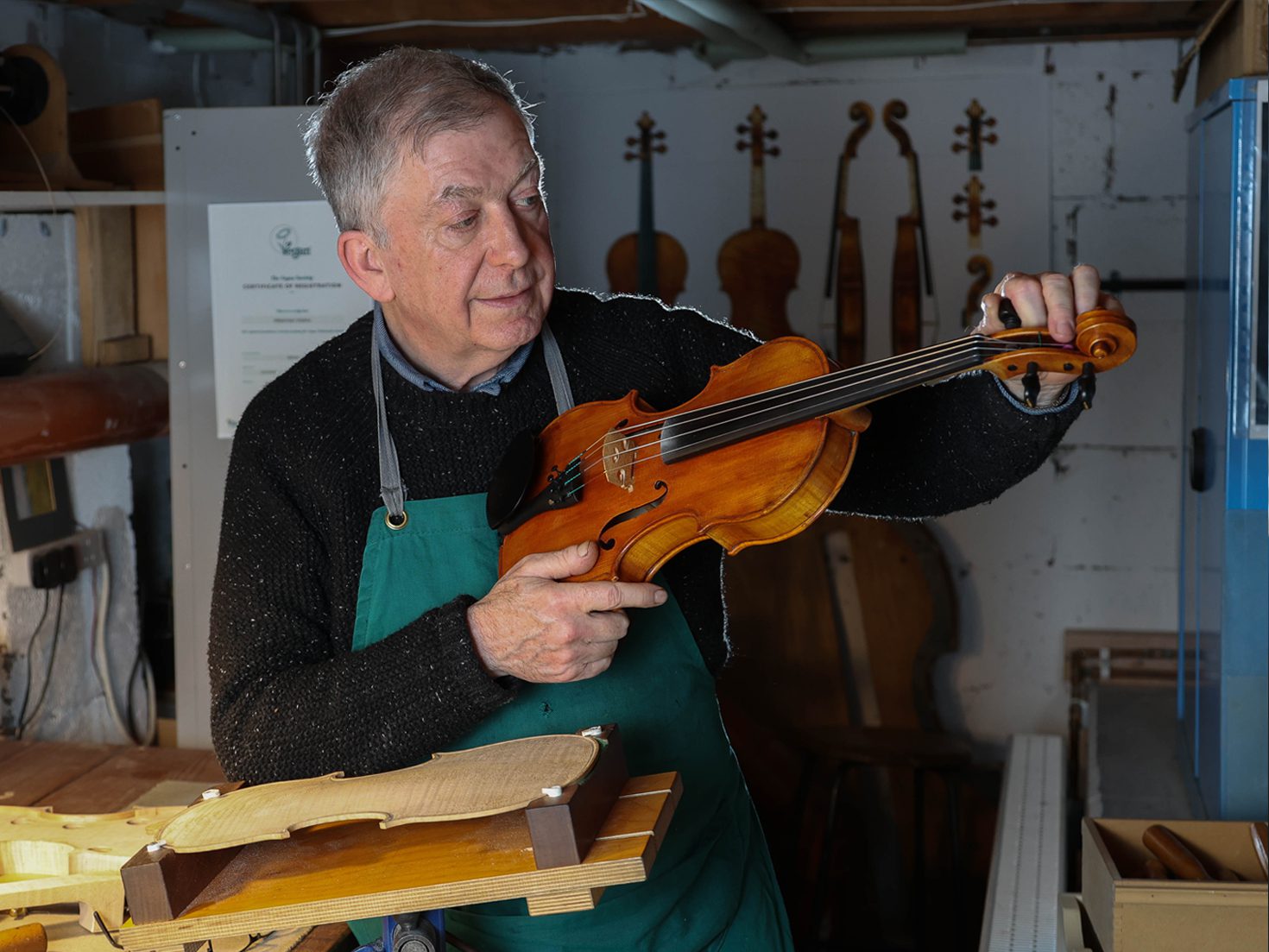 Padraig O'Dubhlaoidh a violin-maker has created the world's first vegan violin to be registered with The Vegan Society's trademark.
(SWNS)
By Adam Dutton via SWNS
A vegetarian master craftsman has unveiled the world's first vegan VIOLIN worth £8,000 ($10,799)– which is made out of steamed fruit and vegetables.
Traditional violins contain numerous animal products including glue from boiled cowhides, sheep intestine strings and horsehair and ivory bows.
Master craftsman Padraig O'Dubhlaoidh, 65, has now finished building the world's first violin made entirely from non-animal products.
He spent five years perfecting the £8,000($10,799) violin and has just been granted permission to use the Vegan Society's official trademark.
He said: "I've made violins for 40 years but a few years ago a customer asked me about vegan violins.
"It was an intriguing question.
"I thought how many vegans are there, potential musicians whose ethics won't allow them to play the violin - it must be awful.
"I decided to try and make the best one I could.
"I wanted to give violin players the chance to play together, despite their views.
"I made my first one and tested it to destruction, but it's only now that I feel confident to present it.
"For months I played it without telling anyone it was made from vegan products and no one batted an eyelid, in fact people complimented me on how good it sounded."
Historically horsehair, hooves, horns and bones have all been used to create instruments.
Padraig, whose daughter is vegan, said the biggest challenge was replacing the traditional animal adhesives which are used to glue the wooden instrument together.
He said: "Animal-based adhesives is a huge subject and they have been used to make furniture and instruments for hundreds of years because it is so reliable.
"I experimented a lot with different methods to replicate the traditional adhesives using vegan products.
"This involved steaming pears and wild berries cooked with spring water and the boiling of certain roots.
"I can't go into the process too much because I have to protect my business and I don't want people making inferior knock-off vegan violins.
"What I actually found was that vegan adhesives are more flexible than animal-based glues. Personally, I found this improved the acoustics of the violin.
"Varnish was also a big challenge. You would not believe the strange animal products used in the process, including the dried urine of buffalo's fed on mango's which is very odd."
Padraig, who uses animal-friendly tools to make the instrument in his workshop in Malvern, Worcs., says it takes roughly twice as long to build vegan violins.
He said: "The processes used to create the glue for the purfling (decorative inlay) takes a week where it used to take a couple of days.
"I have two workshops at the moment. One is vegan with separate tools.
"It is the only way to ensure that violins there are fully vegan. I had to account for every material used in the sub-assembly.
"It takes on average a couple of months, but they are bespoke instruments and everything is certified by The Vegan Society.
"I really hope that it brings more players in. I have had sad messages from people saying they wish they could play, but can't.
"Imagine having to compromise on your principles.
"It's a new thing and it might take a little while to get your head around it but hopefully we can help get people playing."
Padraig admits the only part of the instrument which he has not been able to make vegan friendly is the bow, which contains horsehair.
He said: "Synthetic hair on a bow just doesn't work as well as horsehair and it means the bow must be so tight it doesn't sound as good.
"I think there is still work to do to find an alternative to horse hair bows but we're getting closer."
Ericka Durgahee, spokesperson for The Vegan Society, said: "Every violin is also completely bespoke with the sound and feel tailored to the player's individual style and preference.
"Padraig has done a fantastic job and we're extremely proud of what he has produced."
Stories and infographics by 'Talker Research' are available to download & ready to use. Stories and videos by 'Talker News' are managed by SWNS. To license content for editorial or commercial use and to see the full scope of SWNS content, please email [email protected] or submit an inquiry via our contact form.