Muslim women on bikes are challenging cultural stereotypes
There is this thing in Islam that women shouldn't travel alone."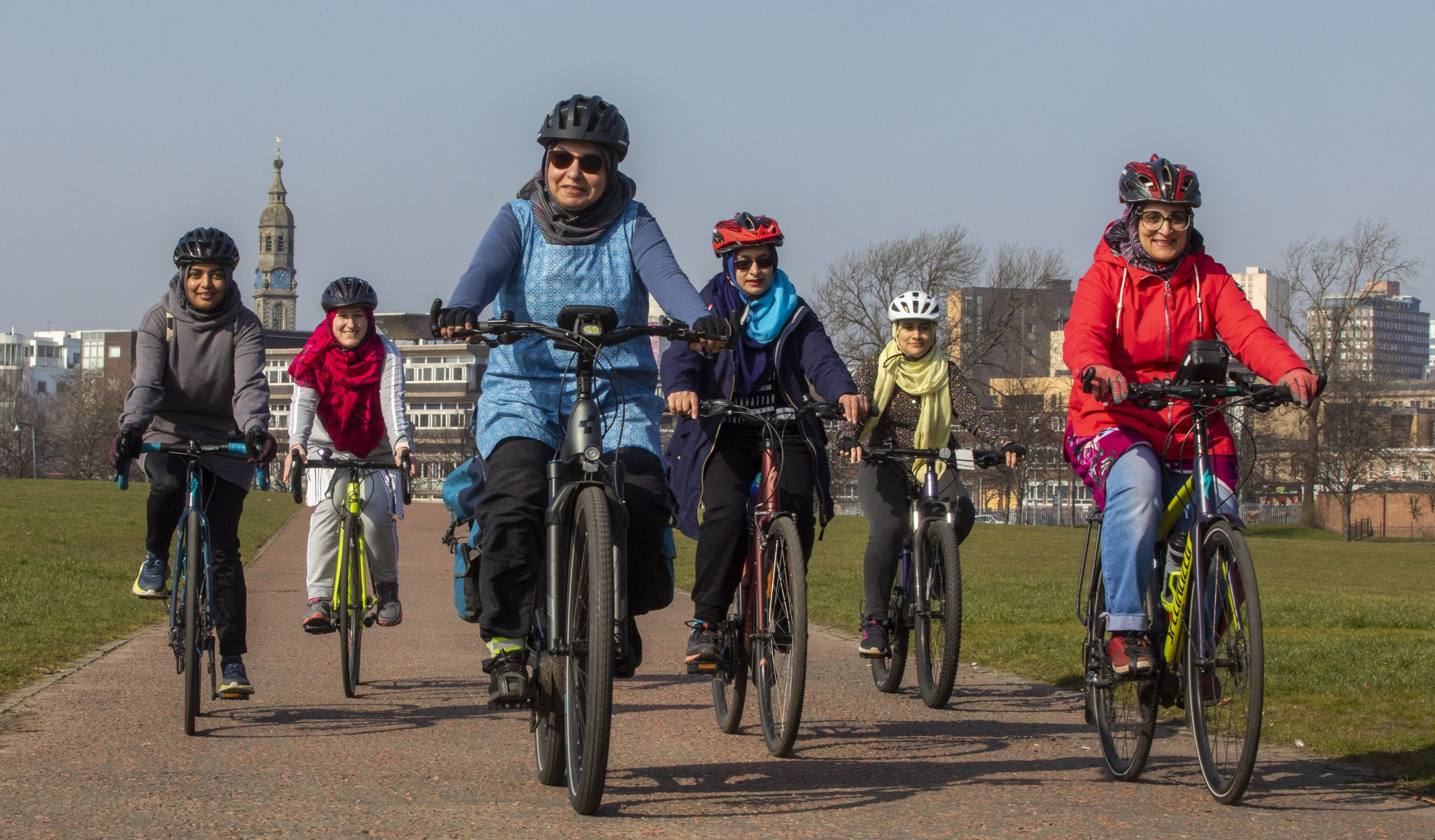 By Sarah Ward via SWNS
A group of Muslim women who learned to ride bikes as adults are challenging cultural stereotypes.
The cyclists, who learnt to ride as adults, include around 20 women, of which only one does not wear the hijab.
Founder Mahnoor Sultan Campbell, 59, learnt to ride aged 40, and set up the group to build the confidence of other women who had not learnt as children.
The group, which was originally called Hijabi Riders but is now known as Women on Wheels, was founded in 2016 and initially had three members but has since grown in size.
Obstacles such as traditional Muslim dress - known as abayas - have been worked around.
Growing up in Pakistan, Mahnoor was one of three sisters but none of the girls were allowed to ride a bike, although her brother was.
She believes there is a stigma around women cycling in Indian and Pakistani communities due in part to religious dress which must be modest, and to a teaching from Allah that women should not travel alone.
Many of the women partner up for journeys, out of safety as well as because of religion.
The women are keen to teach others who have no cycling experience and will help plan routes and teach some bike mechanics.
Mom-of-two Mahnoor, who works as a peripatetic teacher, said: "We want to be inclusive, we want to be there for women of all ages.
"There is this thing in Islam that women shouldn't travel alone, but for their safety, it's better if people partner up.
"I enjoy the company and the pleasure of sharing whatever I'm doing.
"I do know that in Indian and Pakistani cultures, there is a stigma that women don't ride bikes.
"Particularly in Pakistan, there seems to be some kind of status or hierarchy - if you're poor you walk, if you have a bit of money you ride a bike and the woman sits on the pannier.
"If you have more money you have a scooter and the woman sits on the pannier - it's really dangerous.
"You can't sit properly on it.
"I have a friend whose husband said to her 'you've got an expensive car, why do you want to ride a bike?'
"She said 'because it gives me joy and it's good for the environment.'"
As well as teaching adults to ride, Mahnoor also has taught her granddaughter, aged seven, and her grandson aged three-and-a-half.
She believes that stabilisers hinder kids from learning.
Mahnoor said: "It has been a very big part of my life for seven or eight years.
"I started learning because my son always wanted us to go for rides altogether and I'd say 'You go, I'll sit and read a novel,' I never felt I was missing anything.
"I asked my husband could I have stabilisers and he said no, so I looked up cycling tutors."
After a couple of sessions, her confidence grew.
The canals near her home in Glasgow's West End, were a perfect place to get more practise and she eventually began to cycle on roads.
Because of the religious requirements to wear modest clothing, some of the women choose to buy men's cycling gear because it is looser, rather than wearing traditional abayas or compromising their faith by wearing Lycra.
Mahnoor said: "We are open to women of all backgrounds and faiths.
"We welcome everyone to come with us.
"If you don't know how to ride, we will teach you."
Stories and infographics by 'Talker Research' are available to download & ready to use. Stories and videos by 'Talker News' are managed by SWNS. To license content for editorial or commercial use and to see the full scope of SWNS content, please email [email protected] or submit an inquiry via our contact form.