Mom converts her home into petting zoo for her kids
"Strengthening your connection with the natural world is something that can easily be forgotten about."
By Fiona Jackson via SWNS
A mom-of-three has converted her home into a petting zoo with a picture-perfect orchard and herd of miniature horses, for her tots to grow up on.
Nicole Louise Powell, 30, and Benjamin Connally, 40, turned their 15-acre property on the Sunshine Coast in Australia into a farm with chickens, ducks, horses and dogs.
Nicole gets up at 5 am every morning to bundle her kids onto a buggy where they go around the farm feeding all the animals before it's time for school.
She said: "I love looking out the windows of the house and seeing all the animals running around and the ducks swimming on the dam.
"Our animals aren't technically used for anything like on a traditional farm.
"We are a hobby farm, meaning that our animals are pretty much just a big collection of pets, and very loved members of the family."
"We get a lot of joy watching everything around us grow; our animals, plants, trees and projects that we work on."
Their three children - Maxwell, nine, Sonny, seven, and one-year-old Zara – all get involved with farm chores like feeding the animals and picking fruit from the trees.
Their mom said: "They have a good sense of responsibility through doing their farm chores, they know that the animals need to be fed no matter how wet and muddy it is.
"They extend compassion towards all living things, no matter how big or small, and they will often put themselves in the animals' shoes and meet their needs even if they don't necessarily feel like doing it."
Nicole shares all their antics on her TikTok account, including the unlikely animal friendships - like that between dog Floyd and miniature horse Toby-Ted.
She said: "These two will play and argue like siblings – they are the best of friends but they also terrorize each other when they are bored or looking for mischief.
"It is not unusual to look out the window of the farmhouse and see these two sprinting around the paddock together."
There is also Lucky the chicken who believes she's part of their family of nine ducks, and even waits for them on a dam while they swim.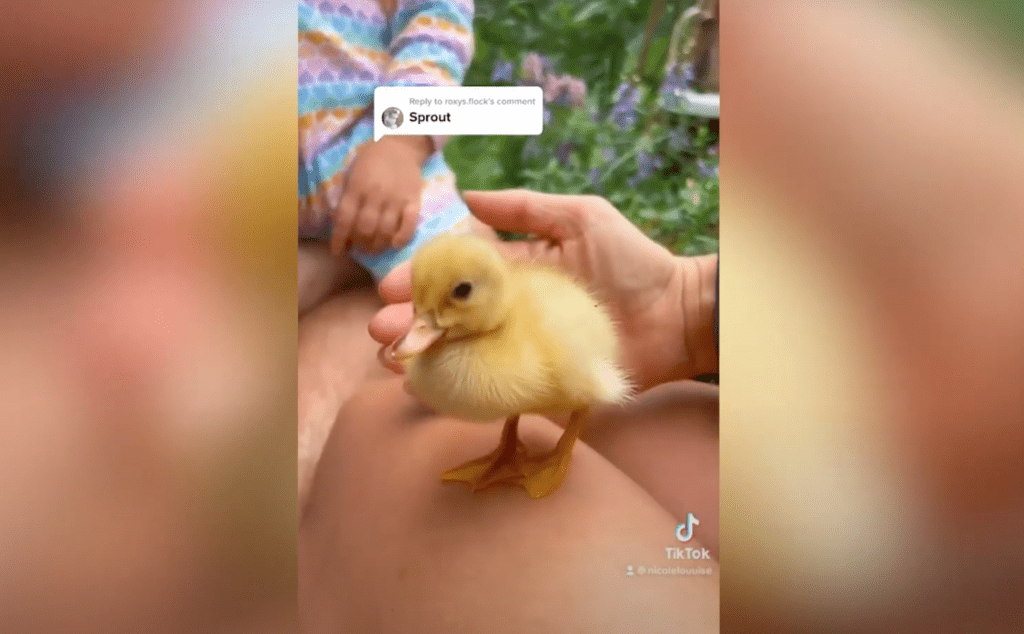 "She only ever spends time with the ducks, despite having 30 other chicken friends," said Nicole.
"I have even seen her follow the ducks into the water not realizing she can't swim or glide on water like the ducks can.
"I'm convinced she doesn't actually know she is a chicken."
In 2017, Nicole and artificial rockwork business owner Benjamin received a notice to move out of their rental home with their children as the owners wanted to move back in.
Nicole said: "This came as very unexpected news so it was a big shake up in our life at the time.
"However, looking back now, I am so thankful for this nudge because it is the very thing that brought us to where we are now.
"We had two dogs and a mini horse, so it was not an easy task finding another rental that could accommodate all of us."
They found what is now Fig Tree Farm online advertised as a six-month rental, however, after moving in they knew they had to make it theirs.
They purchased the property in 2018 for $930,000 AUD ($648,265 USD).
Nicole and Benjamin dreamed of giving their children a rural upbringing of fishing, horse-riding and swimming in creeks.
They already had their mini pony, Tony-Ted, and Rottweilers Hank and Coco.
"When we moved to a bigger property the first thing I was dying to do was get more friends for Toby-Ted, and from there it snowballed and the animals began to accumulate," said Nicole.
In May 2021, three years after moving in, they converted their 15-acre property into a hobby farm.
Nicole said: "We already had the land – however, most of it was unusable as it was mostly bush, and it was also overgrown and unfenced.
"We had to do a lot of clearing and fencing to make it suitable for animals."
They filled their orchard with exotic fruit trees and built Mango Cottage, a tiny timber house for their nine ducks and 30 chickens that sits underneath a mango tree.
The house has a fairy-tale theme, complete with a rustic timber door and antique latch and knocker, square windows, pointed roof, hanging baskets and a tiny porch with steps.
Nicole and Benjamin also built a large post-and-rail fence around the property to create areas for their three horses and four mini horses, and hope to add a proper stable in the future.
Two of their mini ponies, Tom and Bob, actually escaped from a neighbor's property and into Fig Tree Farm.
Nicole said: "When we woke up to a new herd of miniature horses running around in a conga line in our paddock. We both thought we were imagining it!"
But when their owner saw how happy they were she decided to let them stay.
"My dream is for a highland cow and a donkey which will hopefully happen in the near future once we have a bit more room," Nicole said.

"We're also thinking of some geese and maybe a pair of white peacocks."
Life on the farm is busy, with Nicole getting up at 5am to start farm duties with kids Maxell, Sonny and Zara.
She loads everyone on to their farm buggy and they go around feeding each of their animals while Benjamin does maintenance jobs like fixing broken fences.
After the kids get back from school later in the day they do another round, putting the animals to bed before they have their own dinner and head to bed.
Office assistant Nicole estimates they spend up to $1,000 AUD a week on animal feed and other farm supplies.
"I know it is not for everyone, it's a lot of work, but for us, it's wholesome, rewarding and we wouldn't want it any other way."
The children help make the horses feed and collect eggs and fruit, which their parents believe plays a vital part in their development.
"I'm sure Ben will quietly celebrate when Max is old enough to take over some of the mowing," joked Nicole.
"There are many exciting moments that we get to share as a family – our most recent being we just watched our very first ducklings hatch.
"I think that growing up around animals and being outdoors has taught our kids a lot.
"They are not afraid of adventure, not one of them are afraid of getting their hands dirty, running around barefoot or feeding the animals in the mud or pouring rain.
"They have witnessed many births and have also experienced loss too, they have tended to sick animals and learned to love them through all of their phases.
"Being able to witness all the different stages of life here on the farm has given the kids a good understanding of the range of ups and downs of life and all of the emotions that come with them."
Nicole shares farm life on her TikTok account to her 157,000-strong following of animal lovers.
She said: "It gives me a lot of joy to think my videos can make someone smile, or inspire them to live closer to nature.
"I think strengthening your connection with the natural world is something that can easily be forgotten about in our modern times, and if I can remind someone to do that then that makes me pretty happy."
Stories and infographics by 'Talker Research' are available to download & ready to use. Stories and videos by 'Talker News' are managed by SWNS. To license content for editorial or commercial use and to see the full scope of SWNS content, please email licensing@swns.com or submit an inquiry via our contact form.