Pub threatened by Vogue Magazine gets framed apology from Condé Nast
The letter, in an ornate-looking golden frame, came with an apologetic note from the team at Vogue Magazine's parent company Condé Nast.
By Ed Cullinane via SWNS
A 200-year-old pub threatened with a lawsuit by international magazine Vogue due to its similar name has received a framed apology.
'The Star Inn at Vogue' owner Mark Graham, 60, posted a picture on Facebook of the framed apology letter sent to him by the mag.
The letter, in an ornate-looking golden frame, came with an apologetic note from the team at Vogue Magazine's parent company Condé Nast.
They wrote: "Dear Mark and Rachel, from one Vogue to another - please accept our apologies. - The team at Condé Nast".
Mark, a former Royal Navy veteran, won overwhelming support across the country after refusing to rename his pub on May 15.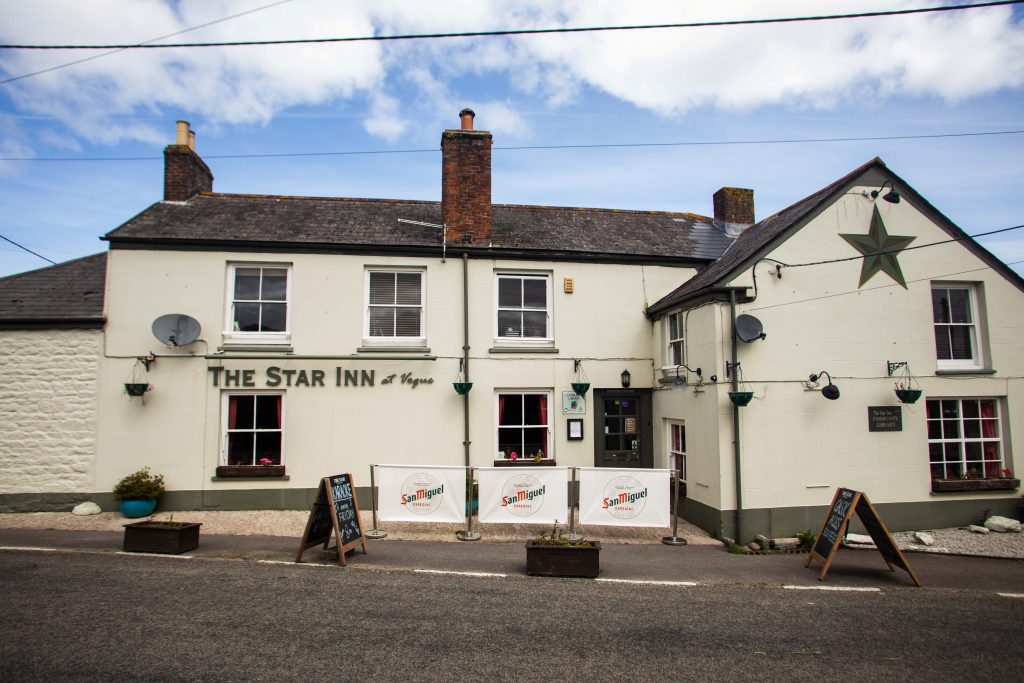 After receiving a letter from Condé Nast asking him to change the pub's name due to fears the public would assume the two were linked, he wrote back a sarcastic refusal.
Villagers of the small Cornish village of Vogue then threatened to hold their own 'Vogue fashion week'.
Condé Nast quickly apologized later and blamed a lack of research by their team into the Pub and its location - the small Cornish village of Vogue.
He and his wife of 17 years Rachel have since featured in almost every national paper, Good Morning Britain, and TV shows worldwide.
He says he will even feature on a show in Australia this week, who have agreed to donate 500 Australian dollars to a charity of his choosing for his appearance.
They've even seen an uptick in customers, with locals and tourists alike choosing to come to the pub out of loyalty and curiosity - even if they hadn't been in for years.
The pub's Facebook page has also exploded in popularity, reaching nearly 3,000 followers.
Mark said the local community has continued to rally around the pub. He explained: "We've had a few people coming in purely to see the pub who'd never come in before.
"Two or three people or groups a day might drop in having come solely because of the news story.
"The locals meanwhile all come in and ask what's happening now. We've had people coming in after having not been here for years.
"One of the local's family came down from Manchester for the week too and of all the places to go for dinner around here chose to come here.
"I couldn't afford to buy this kind of advertising, getting spots on TV shows and being in all the papers.
"Some of our posts on Facebook these days have reached over 10,000 people too - and that was just last night, it'll be higher now.
"It was very nice of them to send over the framed letter, which we're gonna frame next to my response and their first letter.
"We do find it funny though that now after there's been so much press, they're being very nice now - not as threatening anymore!"
The apology letter was written by spokesperson Christopher P. Donnellan of Condé Nast Publications Ltd.
In it, Mr. Donnellan wrote: "Many thanks for your letter dated 15 March 2022 and for responding with more information about your business and the hamlet of Vogue.
"We were grateful for your response and to learn more about your business in this beautiful part of our country.
"I am sure you will appreciate why we regularly monitor use of the name VOGUE, including at Companies House (which is how we were alerted to your company name).
"However, you are quite correct to note that further research by our team would have identified that we did not need to send such a letter on this occasion.
"Everyone at Conde Nast wishes you and everyone in Vogue best wishes for a happy summer, and for your upcoming "American Night" on 18 May."
Stories and infographics by 'Talker Research' are available to download & ready to use. Stories and videos by 'Talker News' are managed by SWNS. To license content for editorial or commercial use and to see the full scope of SWNS content, please email licensing@swns.com or submit an inquiry via our contact form.