Woman had part of her tongue removed and remade from her leg
"There is even a freckle on my tongue from my leg."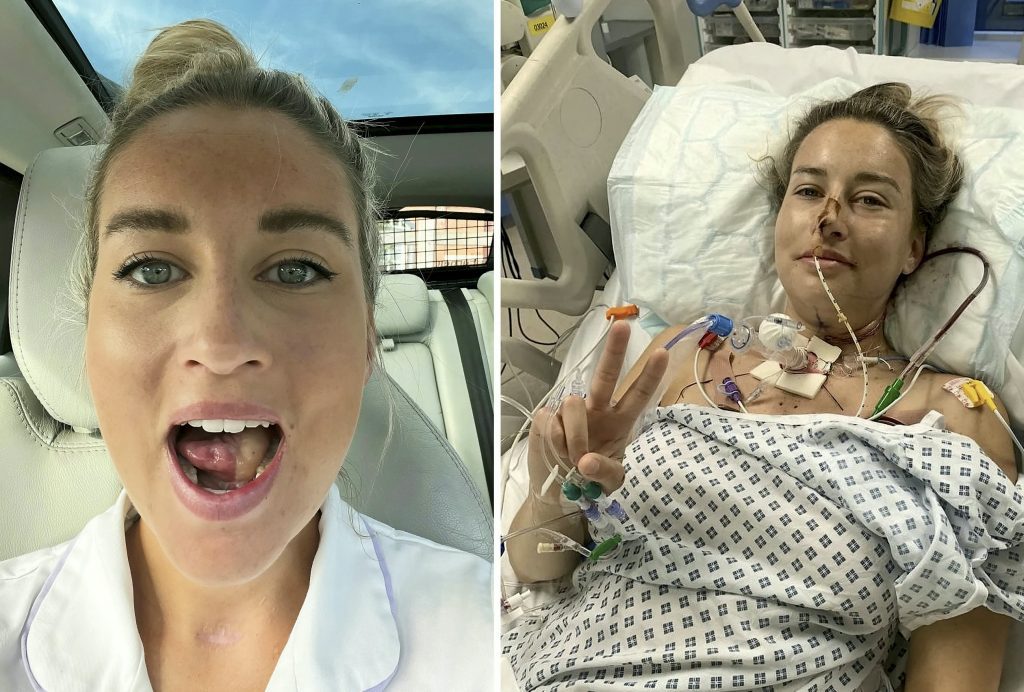 By Katie Pearson via SWNS
A woman with mouth cancer who had part of her tongue removed and remade from her leg has shared her story to help others.
Charlotte Webster-Salter, 27, began suffering from recurring ulcers in 2018 but put it down to working long shifts as a flight attendant and feeling 'run down.'
After several trips to the dentist and GP, Charlotte was eventually referred to a specialist at the Ear, Nose and Throat department at St Richard's Hospital, Chichester, UK, in February 2021 for a biopsy after her tongue developed sore, white patches.
In May 2022 test results revealed that Charlotte had tongue cancer.
A few weeks later, she underwent a nine-hour operation which involved removing part of her tongue and replacing it with muscle from her leg.
Charlotte had no idea if she would be able to speak or eat normally again and spent the next two weeks with a tracheostomy - an opening in the neck with a tube inserted to help you breathe.
Despite the grueling surgery, Charlotte stunned doctors with her speedy recovery and was overjoyed to discover that the cancer had not spread further.
Now she is hoping to help raise awareness of the signs and symptoms of the disease.
Charlotte, a student midwife, from Petersfield, UK, said: "My tongue is now a two-tone color."
"There is even a freckle on my tongue from my leg.
"You hear about breast cancer and prostate cancer, but rarely mouth cancer.
"It's usually older men or smokers who are diagnosed. The doctors had never treated someone as young as me."
"The first time I saw a poster about it was in the head and neck clinic. It's definitely something that needs to be talked about more.
"The ulcers always appeared in one area - which I thought was odd.
"I kept dismissing it, in my mind I thought it was just stress or feeling run down.
"I even thought it was from being hungover or eating spicy food was aggravating it.
"I had my teeth straightened and had fillings, but nothing helped."
Doctors had discovered a tumor called a squamous cell carcinoma growing in her tongue.
Charlotte said: "I just laughed when they told - I was so shocked I didn't know how to react.
"Cancer was the furthest thing from my mind. The hardest thing was telling my mom."
Charlotte was supported throughout by her partner, Tom, 31.
"The night before the operation, Tom and I went for a curry - it was amazing," she said.
"I didn't know when I'd next be able to eat or even speak.
"No one really knew what the outcome would be - losing the ability to speak was the scariest thing for me."
The surgery went well but Charlotte was rushed for another four-hour operation when her new tongue lost its blood supply.
Luckily, doctors were able to save it and she spent four days in ICU before being moved to the Maxillofacial unit.
The tracheostomy was removed two weeks later, and Charlotte was finally able to say her first words after 10 days.
"I said 'hello' and everyone was in floods of tears," she said.
"The moment I took my first sip of water it was honestly the best thing ever.
"I surprised my mom and Tom by speaking to them when they arrived - it was a very emotional moment."
She underwent speech therapy and physiotherapy to learn how to talk, eat and even walk again while recovering from the surgery on her neck and leg.
After recovering, she started university and is currently studying to become a midwife.
"The hospital staff and surgeons were incredible - I can't thank them enough," she said.
"When I couldn't talk, the nurse would just sit and talk to me for hours.
"It was the little things, but they were so supportive.
"In some ways, I feel exceptionally lucky because it was caught in time.
"I'm a rare case because I'm so young - it was a mystery to the doctors.
"But I think it is so important to look out for the symptoms at any age.
"There needs to be more awareness out there.
"If just one person reads my story and recognizes the symptoms, I'll be happy."
Stories and infographics by 'Talker Research' are available to download & ready to use. Stories and videos by 'Talker News' are managed by SWNS. To license content for editorial or commercial use and to see the full scope of SWNS content, please email licensing@swns.com or submit an inquiry via our contact form.