Prickly Pear? Dad finds freaky fruit that he claims looks like a penis
"I certainly won't be looking at pears in the same way again."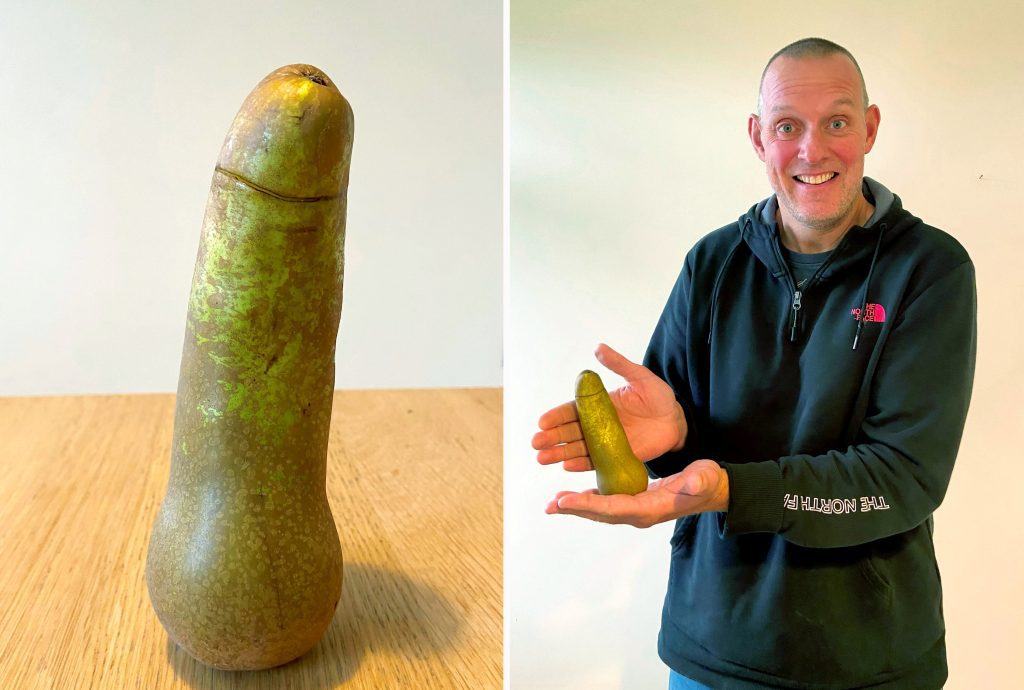 By Adam Dutton via SWNS
A dad who found a rather X-rated pear in his grocery bag said he won't be able to look at pears in the same way again.
Johnny O'Connell, 43, burst out laughing when he discovered the phallic, 7-inch fruit while unpacking his groceries from the supermarket Aldi.
He was stunned by how "realistic" it was and says his wife's friends are now putting pears on their weekly shopping lists.
The father-of-two was shocked when he opened a £1.49 ($1.66) bag of Conference pears at his UK home on Wednesday night (October 5, 2022).
Johnny, of Northumberland, UK, said: "I'd nipped out to buy a few things, brought them home and was unpacking them when I fancied a snack."
Johnny said his wife has been nagging him to lose weight so he decided to eat something healthy.
"Out tumbled this willy-shaped pear. My eyes almost popped out of my head. My missus (wife) just started laughing. I told her 'there's no way I'm eating that.'
"As a laugh, I posted pictures of it on my social media and my mates thought it was hilarious.
"I've had loads of comments, including some very rude ones, but I like to think I've given people something to smile about."
"I certainly won't be looking at pears in the same way again."
The construction worker is now keen to find more "naughty" fruit and veg while shopping.
"It certainly brightened up going on the weekly shop."
"As well as doing the old squeeze test, I'll be checking if it looks rude and if so, then it's going in the basket."
Stories and infographics by 'Talker Research' are available to download & ready to use. Stories and videos by 'Talker News' are managed by SWNS. To license content for editorial or commercial use and to see the full scope of SWNS content, please email [email protected] or submit an inquiry via our contact form.