'Kleptomaniac' dog rushed to vet after eating TV remote
Hank has stolen toy cars, magnets, bubble wrap, underwear, sponges, teddies and doorstops since his owner got him as an 8-week-old puppy.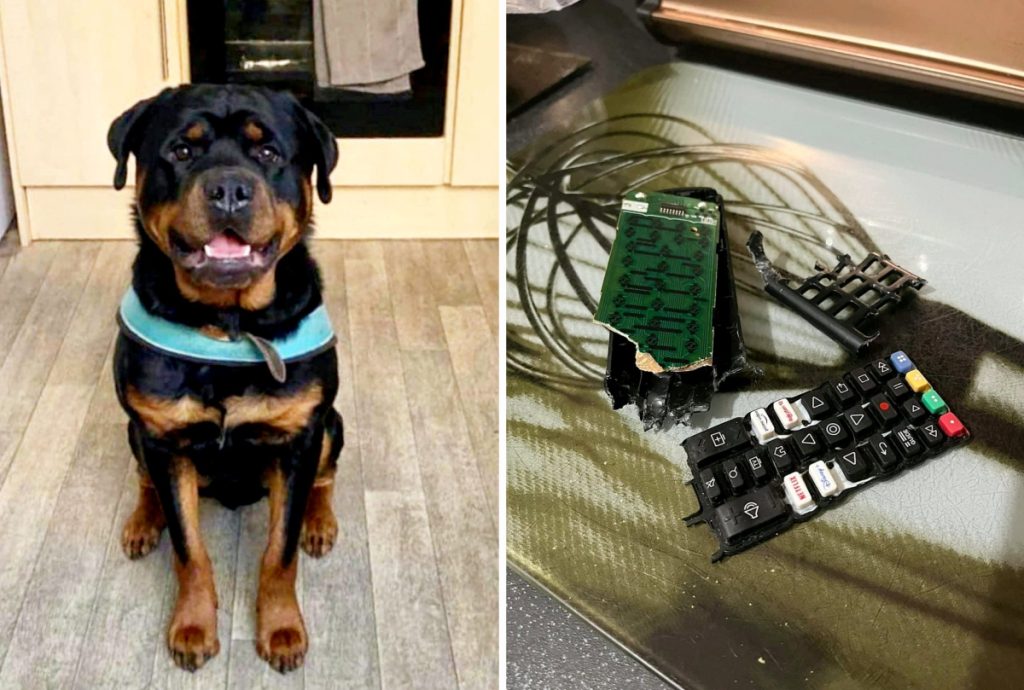 By Sophie Watson via SWNS
A "kleptomaniac" dog who keeps stealing from his owners was rushed to the vet after wolfing down a TV remote control.
Mischievous Hank, a two-year-old Rottweiler, has become well-known for repeatedly pinching items from around the house and hiding them in his basket.
Owner Colin Hatley-Ayre reckons he could own the "UKs most prolific canine klepto" after he was forced to install a baby gate to keep him out of trouble.
Hank has stolen toy cars, magnets, bubble wrap, underwear, sponges, teddies and doorstops since Colin got him as an eight-week-old puppy.
But his cheeky antics nearly ended in tragedy after he began eating a TV remote control and needed rushing to the vets earlier this month.
Colin had luckily been on hand to retrieve the device before Hank had swallowed or chewed the potentially lethal batteries.
The pooch was given an x-ray at the Blue Cross Animal Hospital in Grimsby, Lincs., England, to see if the parts he had swallowed had caused a blockage.
Fortunately, no severe problems were caused and Hank was given an enema which released small pieces of black plastic and he was sent home with pain relief.
Colin, from Grimsby, said he and his wife are now keeping an even closer eye on Hank to avoid another trip to the vets.
He added: "We've had Hank since he was eight weeks old, and he's always been a thief.
"We keep everything out of his way as much as possible and use a baby gate to keep him out of reach of stuff to steal.
"My wife calls him 'Hanky Panky' as he is always up to no good.
"He's stolen all sorts, even though he has his own toys including super extra strength doggy chews.
"He will usually stash his finds under his blanket but this time he was caught in the act.
"Luckily not too much damage was done, except for the remote, and he seems fine in himself now.
"We've spotted a couple of rubber numbers come out so hopefully he is over the worst and has learned a valuable lesson."
Charlotte Hailstones, veterinary nurse at Blue Cross Grimsby said: "It was fortunate that Hank's owner got hold of the remote before too much damage was done.
"Batteries can be extremely dangerous if a dog swallows or pierces them.
"Not only can batteries cause an obstruction, if pierced, they can lead to extremely painful chemical burns inside their mouth and esophagus."
Stories and infographics by 'Talker Research' are available to download & ready to use. Stories and videos by 'Talker News' are managed by SWNS. To license content for editorial or commercial use and to see the full scope of SWNS content, please email [email protected] or submit an inquiry via our contact form.