Ukrainian soldiers who lost limbs receive bionic prosthetics
"I'm very happy and grateful to receive the bionic hand."
By Josie Adnitt via SWNS
A UK bionics company has provided high-tech prosthetics to Ukrainian soldiers who lost their arms during fighting.
Open Bionics organized for two front-line soldiers to receive their 'Hero Arms' - advanced, lightweight, 3D-printed bionic arms - this weekend.
Andriy Gidzun and Vitalii Ivaschuk both suffered injuries while fighting and had below-the-elbow amputations.
They are the first Ukranian veterans to be fitted with the arm made by the Bristol-based company.
The pair were previously invited to Munich to be measured for prosthetics and try them out.
And on Sunday, both were presented with the bionic arms to keep in Poland.
Speaking through a translator, Andriy said: "I'm very happy and grateful to receive the bionic hand.
"I was upset also when I lost my hand - I didn't know what to do."
Speaking through a translator, Vitaliy added: "It's like being a kid and you're trying to understand how to use the hand.
"I'm excited to drive my car, make my bed in the morning – yesterday I had a cup of coffee at home. I broke one cup but I was very happy so it didn't matter.
"When I received the test prosthetic it was such a beautiful feeling, it was like a dream – like when you're a kid and you're dreaming about a toy and finally receive it."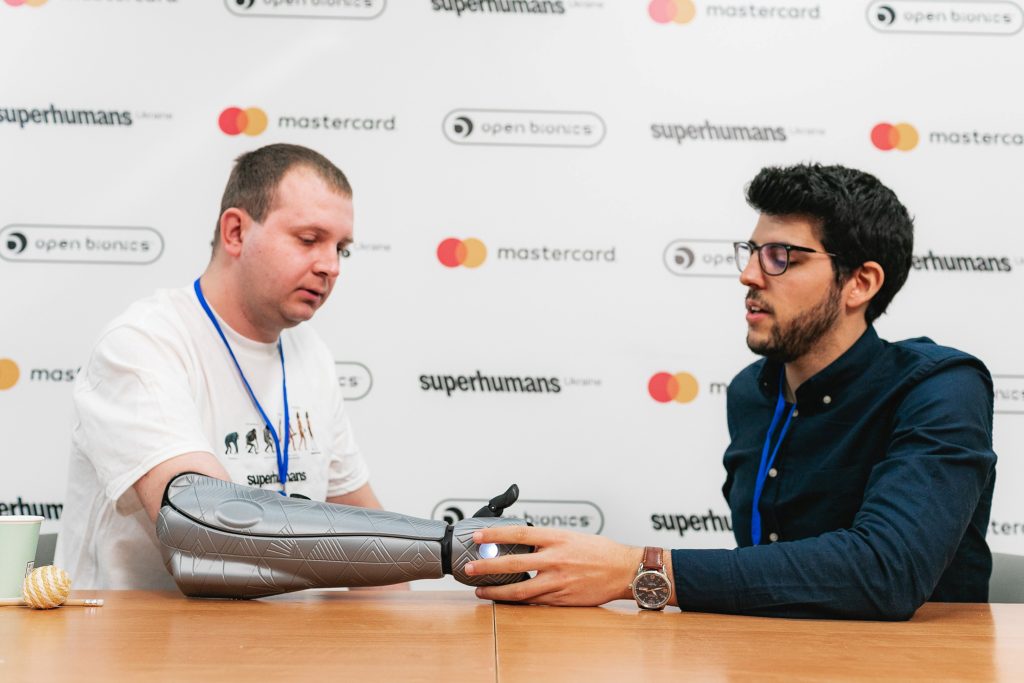 The bionic arms have moveable wrists, fingers and thumbs, allowing users to pinch and grasp objects.
Controlled by sensors which are activated by muscles in the forearm, the custom-made prosthetics are unique to each individual.
Superhumans, the charitable organization responsible for securing the funding for the bionic limbs, aims to build a specialist hospital in Lviv.
Their goal is to work with Open Bionics to provide more prosthetic limbs and support to soldiers and civilians who have lost limbs as a result of the war.
Vitaliy said: "Right now, I have the opportunity to make all these things I did previously with one hand and now I can do it with two hands.
"It was very sad when I realized I had lost my arm. I lost the chance to be with my brothers in arms - with my friends.
"The rehabilitation period was very long and the biggest problem was that I was not with my guys.
"It was interesting to travel to Germany and spend some time abroad.
"Yesterday, I received something that belongs to me.
"Previously, I had a mechanical prosthesis which was more simple and not as cool as this one."
Andriy said: "My friends supported me a lot, I had support from a lot of people and they reminded me everything would be okay.
"When I had the opportunity to test the arm for the first time in Germany, it didn't feel like mine.
"It was a bit strange, it wasn't my hand - but yesterday it was the moment I understood this is my hand.
"In the future, I will spend more time studying how to use the arm."
Prior to the Ukrainian invasion, Andriy Hidzun, 29, worked at a mine in Novovolynsk, close to the Polish border.
He was drafted into the army on March 9, first serving in the Kyiv region before being sent to Donetsk, Kirovohrad, and Mykolaiv.
He was injured on April 7 by a mine as he escaped mortar fire.
"The commander and I were sitting in the car," he said.
"I, as usual, connected on the military radio.
"Suddenly, we heard that something exploded near us.
"We ran out of the car, quickly hid in the trenches, but the attack was very heavy, and we decided to change our dislocation.
"We ran to the nearest forest, but a mine exploded there".
As an only child, Andriy says the hardest part for him was telling his parents about his injury.
"For a long time, I could not find words to tell my mother what had happened to me - [I didn't tell her for] three months," he said.
"I just didn't know how to start, so that she wouldn't take it so painfully. Only dad knew.
"But I understood that I would not be able to hide. I lost my hand. It was extremely hard, but I had to go home and tell the truth."
Vitalii, 24, joined the Ukrainian military after his 18th birthday.
He was injured, leading to the loss of his hand, during a tank assault.
"I heard that tanks were coming, when they were 200 meters from me. I took a grenade launcher and decided to wait behind the bushes until they came out, and I lost the right moment," said Vitalii
"The next moment I remember - my wrist was devastatingly injured.
"I jumped aside and asked my comrade to use a tourniquet. He helped me put it on and I decided to move to a nearby position about 400 meters away.
"There was a doctor there. He injected me with painkillers, and we called for an evacuation.
"However, as soon as we went outside, cluster bombs exploded in front of us.
"Our doctor and I were injured again, but I didn't even feel it, considering that my hand was numb.
"It was a very hard battle - artillery and small arms were working frantically and nothing could be heard, so the evacuation team didn't notice us.
"There was no other way than going to the neighboring village [which took] one-and-a-half hours.
"On the way, we came under fire again. I glanced at my hand, I saw that the skin was already torn on one side.
"I felt weak, and the painkiller stopped working. I walked 200 meters, took off my helmet, sat on it and decided to wait for help.
"I do not consider myself 'disabled,' I am fully capable. I think all people want to feel fulfilled.
"The fact that I have the status of a veteran and an amputated arm, and that I have a prosthesis does not limit me in my desires and actions."
Joel Gibbard, Open Bionics CEO, traveled to Poland to meet Andriy and Vitalii in person.
He said: "We're incredibly happy that both Andriy and Vitalii are happy with their new Hero Arms.
"The devices will restore some of the mobility they lost while bravely defending their homeland and we're grateful to have played a small positive role in their lives.
"We're working with the Superhumans Centre to deliver more Hero Arms to wounded Ukrainian civilians and soldiers and we're grateful for their work on the ground supporting amputees."
"Yesterday we delivered two Hero Arms for two Heroes. We're incredibly happy to see Andriy and Vitalii's restored mobility and joy with their new bionic arms."
Stories and infographics by 'Talker Research' are available to download & ready to use. Stories and videos by 'Talker News' are managed by SWNS. To license content for editorial or commercial use and to see the full scope of SWNS content, please email [email protected] or submit an inquiry via our contact form.